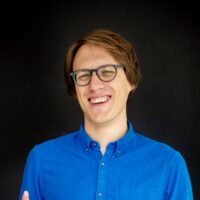 Guest Oliver Schöndorfer
UI designer empowering developers & designers to improve their websites, and products with pimped typography.
Season 04 Episode 12 – Jul 06, 2021
1:14:56 Show Notes
Pimp Your Typography
Time to pimp your website typography with Oliver Schöndorfer. Learn the fundementals of typography and why it matters to your website and message.
Show Notes
We start off by defining what Typography is. Then the various types of fonts including serif and sans-serif fonts and when to choose which to choose.
I (uppercase I), l (lowercase l), 1, a, g test
The difference between legibility and readability
Comic Sans and Helvetica fonts
Avatar and Papyrus
Heading, body fonts, and fonts that can be used everywhere
Oliver Judges Sean's website headings
Tips on how to choose fonts for a website
Web font marketplaces
5 common web typography mistakes and how to avoid them
Leading and line height
line length
Oliver gives a review of the Website 101 Podcast website typography.
Show Links



Season 04
All Seasons