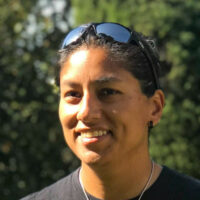 Guest Angie Herrera
Angie Herrera is a UI designer & front-end developer from Portland, OR with nearly 20 years experience in branding & web design.
Season 02 Episode 3 – Jul 16, 2019
38:35 Show Notes
How to Choose a Web Developer or Agency
In this episode I talk with Angie Herrara of Block 81 about how to choose a web developer or agency. This could be due to your relationship with your current developer isn't working out or because your business website needs have grown beyond what you can do by yourself.
Show Notes
Price is not the bottom line you should focus on. Your focus should be on does the web developer try to understand your business and your business goals for the website. A good developer will be able to translate all the web jargon in a way that makes it easy for you to understand and work with them.
The starting point shouldn't be technology, it should be the goals of the website.
The key takeaway from this episode is that your developer or agency should be communicative and responsive.
Show Links



Season 02
All Seasons