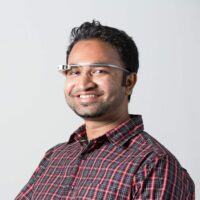 Guest Shopnil Mahmud
I'm a Front-end Developer & UX & UI Designer. I dream of building a universe inspired by art, music, nature, shapes and patterns to solve daily design problems.
Season 05 Episode 13 – Jun 28, 2022
34:01 Show Notes
Talking to a New Dev
We talk to new developer Shopnil Mahmud about learning web development at Seneca College and starting work in the field. Questions were submitted by current students at Seneca College.
Show Notes
Web technologies
Learning new frameworks
Is what is taught in a course enough to get a job?
Side projects
UX/UI Design vs Developer
Continuous learning
What was the most important thing you learned at school for your current job.
Dealing with stress
Job search & Interviews
Advice for new developers



Season 05
All Seasons